A SHORT AUTOBIOGRAPHY

In retrospect, a childhood in Berkeley in the late fifties and early sixties was idyllic. Quiet streets in the Berkeley Hills, going to school with the children of Cal's Nobel Laureates, a loving family whose greatest passion was politics. How lucky I was to be born to these great parents and this fine older brother in a town where good conversation was the favorite pastime.

Another stroke of luck was being at San Francisco State College in the sixties. I was on the wave of a true social revolution. It was a thrilling ride, but somehow we threw the baby out with the bathwater the sexual revolution, the distrust of authority, the careless experimentation with drugs, were, I believe, misguided. I think San Francisco in the sixties was exciting beyond measure, and I don't expect to feel that flush of power and fun ever again. During this period, I spent three weeks in Santa Rita Correctional Center with Joan Baez and other notables protesting the draft of my generation's boys, and protesting the war in Vietnam. That's another story in itself.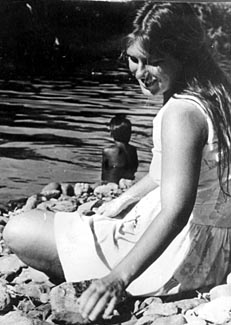 Then in 1971, wanting only raw adventure, I got on a freighter and went to Japan. Circumstances led me to an island in the tropical central Pacific, Ponape, in Micronesia, where I spent a year to the day living with Peace Corps volunteers, and local people. This year was so full of adventure and beauty that I could hardly describe it except to mention a fond memory of night swimming in a warm, clear, high mountain river in the light of a full moon, with hibiscus flowers floating past. I mean, how good can it get?

Traveling by tramp steamer on through the Pacific, I ended up in New Zealand, where I did my nursing training in the old British hospital style. We were apprentice students living in a Nurses Home. We wore red capes and white hats. We called others Sister and Matron, we worked nights on our own, and we got a damn good training. I am forever grateful for New Zealand, and feel I finally "grew up" there.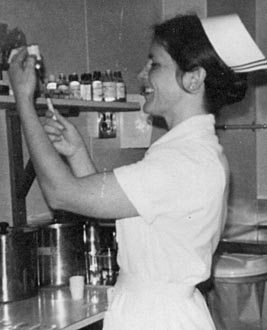 By 1980, I was back home in California, worked on the Med-surg/ Oncology Unit at Marin General Hospital for several years, followed by two years at Hospice of Marin. Then outreach nursing in rural Mendocino County, and finally, Home Health at Sonoma Valley Hospital in Sonoma. Eventually finishing a Master's at USF, I taught at College of Marin in Marin County, and Sonoma State University in the Basic Baccalaureate Nursing Program.

I married latish, at 42, another stroke of luck, to an extraordinary man, computer software engineer nerd. My most recent good luck was the birth of our daughter, who now is the center of our lives, and everything else falls into second place. Older parenting, we are finding, has advantages.

You'll notice that in all these wonderful things above there is no mention of the failures, disappointments, and self doubt that accompanied this life story. That's because I'm a complete and utter optimist, always see the bright side and choose to ignore the rest.

Some quotes which I carry with me that characterize my outlook on life:

Aldous Huxley in a last lecture before he died in Los Angeles was asked what advice did the wise man have to pass on to future generations. He thought for awhile and said, "Ladies and gentlemen, the only advice I have to give youis to be a bit kinder to one another."

You cannot choose the cards you are dealt in life, but you can choose how they are played in the game.

To thine own self be true, and it shall follow as the night follows day, that thou can then not be false to any man.

Cheers.