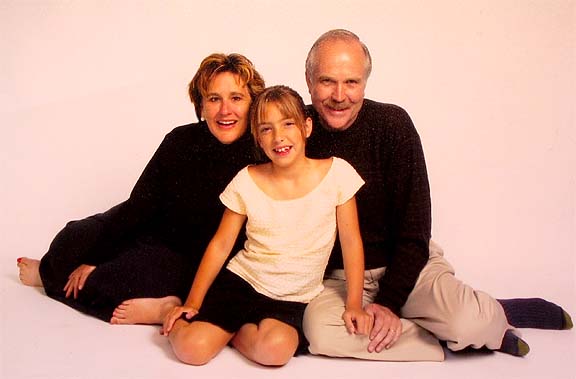 elcome.. We've set up this web site to show a little bit of ourselves. It's aimed especially for far away friends in New Zealand, Scotland, Arcata, and Canby---neighbors and friends. Click on our family photo album for corny (but awesome) pictures of Malcolm, Sydney, and BJ, at home and at play.
We took a great vacation during the summer of 2006 to Hawaii and Pohnpei, Micronesia, In 2005 we went to Costa Rica. We took two vacations in 2004. The first was to the British Virgin Islands, and the second to Mexico City.
Malcolm is working for Pixar Animation Studios in Emeryville. When not making his Hurculean commute, he can be found busily at work on one of the multitude of interesting hobbies: backyard vegetable garden, genealogy, cooking, or brow-beating BJ with his political harangue.
BJ. mothers first, and works as a Home Help nurce and she volentuers for Hopice. Click here for fascinating autobiography. Here are some line drawings and others. As a hobby, she loves to draw, read, and going on family vacations. Very amateur. She continues, as well as Malcolm, to enjoy every second of family life with the fabulous Sydney.
Sydney Grace Blanchard, 13 years old, the most photogenic of the crowd, is a lover of the TV show Lost, Johnny Depp, her sister Lexis (aka. Lexa) and her myspace. Sydney is funny and smart, talks your ear off, loves to sing, and likes to play basketball. She's looking forward to high school. Her friends mean the world to her and she loves to party. She does not like bugs, homework, and hates waking up early. If you want to know more about Sydd and Lex, click here.
We live in Glen Ellen, a small town north of Sonoma, north of San Francisco. We have a Mediterranean climate and grow grapes and make wine in this region. We adore the combination of rural and funky in our neighborhood, and have a spectacular view of Sonoma Mountain from our windows. At night we go to sleep with the sound of crickets. In the morning, wake up to the sound of chickens. We have goats for neighbors, and like it that way.
Call, write, e-mail, or let us know your site. We miss you.
Malcolm, BJ and Sydney
Last updated February 10, 2008.